Caring for the Caregiver With the Quil Health Caregiver Handbook

Download the Quil Caregiver Handbook (PDF)
Caregiving is a rewarding and important commitment. Providing the best possible care for another person requires the energy, knowledge, patience, and time to help navigate not just medical care, but also the person's home and personal care needs.
At Keystone First Community HealthChoices, we understand the challenges caregivers face on a daily basis.
That's why we are excited to support you with the Quil Caregiver Handbook — a resource with helpful information at your fingertips.
Keystone First Community HealthChoices and the Quil Health Caregiver Handbook can offer you this kind of support for your caregiver journey.
When you utilize the Caregiver Handbook you'll have access to features that include:
Videos and articles.
A checklist to organize daily routines, including meals and medicines.
Guidance on how to care for certain medical conditions and prevent infections.
Information on how to interact with the health care system.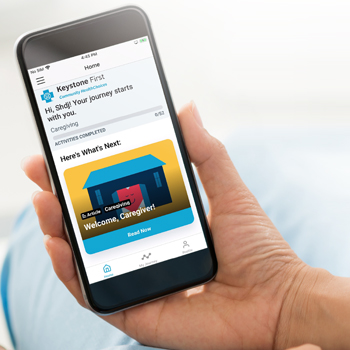 You may be considered a caregiver if you've performed any of the following tasks for another person who is sick, injured, or living with a disability:
Helping with chores around the home.
Managing or helping keep track of finances.
Picking up medications.
Preparing meals or grocery shopping.
Providing transportation and co-attending a medical appointment.
Speaking with a health care provider on someone's behalf.
The scope of caregiving can go beyond this list and depends on the individual's needs.